A Power Supply has different types: Non-modular, Semi-modular, and modular. The non-modular PSUs come with all the attachable cables, but beginners often get confused about whether modular PSUs come with the necessary cables or not.
If you are buying a modular Power Supply, then there is no need to buy the cables separately.
Every modular Power Supplies come with detachable cables, and all the cables are equipped in a small bag inside the Power Supply box.
Generally, the modular Power Supplies come with a 24-pin ATX cable, 4+4-pin CPU cables, 6+2-pin GPU cables, SATA power cables, Molex cables, and a power cord.
All the cables are detachable, and that's why you can use these cables according to your convenience.
The primary advantage of a modular Power Supply is that it will give you a clutter-free PC build with good airflow.
What Is A Modular PSU?
Modular Power supplies are those PSUs that have all the detachable cables, and these days, gamers are mostly using these types of PSUs.
There is no need to use all the cables for modular PSUs, and you can use cables according to your need; you can also leave any cables if your system doesnt require them.
Don't get confused with the modular and semi-modular PSUs. The Semi-modular PSUs have some attachable & few detachable cables.
All Modular Power Supply Cables
Like non-modular and semi-modular PSUs, modular PSUs also come with all the necessary cables that your system will require. Here are all those cables-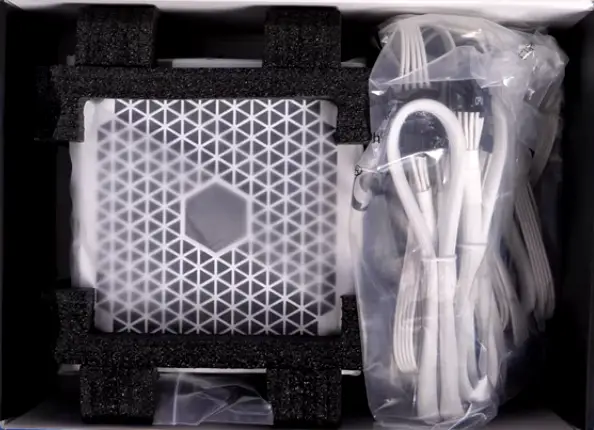 20+4 Pin ATX Cable- This cable will go to the motherboard's 24-pin slot to provide power to the motherboard and its peripherals.
4+4 Pin CPU Cables- This cable will go to the motherboard's 4-pin or 8-pin slot, and this PSU cable is necessary to give power to the CPU socket.
6+2 Pin PCIe Cables- These cables will go to the graphics card's 6-pin or 8-pin slot. The primary uses of these cables are to provide the necessary power for your graphics card.
SATA Power Cables- The SATA power cables are primarily used to install different SATA storage devices, including SATA SSDs, hard drives, and optical drives.
Molex Cables- Although the Molex cables are becoming obsolete these days still, the modular PSUs come with some Molex connectors.
Power Cord- The Modular power supply also comes with a Power cord, and with the help of this cable, the PSU takes the AC power and converts that into DC power.
These are different types of Power Supply cables that usually come with a Modular power supply, but in some cases, you may not require all these cables.
Read this article which Power Supply cables does your system need?
Are All Modular PSU Cables The Same?
No, all modular power supplies do not have the same cables; they are completely different because of their pin layouts and voltages.
The cables might look the same on the device side, but they are not the same on the power supply side.
That's why using cables from different modular PSUs is never recommended.
However, if you are using the same brand's same model power supply, then there is a possibility that the cables will be the same.
But you have to check the cable's pin-layouts and voltages before using, and you can check the Pin-layouts and measure the cable's voltage by using a multimeter.
Without checking these factors, if you use the cables from different Power Supplies, then different things could happen with your system.
The first thing that could happen is the cables are inserted in the wrong spots, and due to the incomplete circuits, the current will not flow, and therefore the PSU and system will not be turned on.
Another thing that could happen if the cables are inserted in the wrong spots is that overcurrent & overvoltage will flow through the cables. As a result, your power supply & other PC components could get damaged.
Can You Replace The Modular PSU Cables?
Before replacing the cables of your modular power supply, you have to check whether you will get the same cables from your manufacturer or not.
Different manufacturer cables are not compatible; for instance, you cannot use EVGA 750W PSU cables on your Corsair 750W Power supply.
Check your manufacturer's website and ask whether they can provide you with the cables for your power supply.
However, in most cases, the price of the cables equals to the Power Supply price, so it's definitely better to invest your money in a brand-new power supply instead of putting money on cables.
If your budget does not allow you to invest in a brand new power supply, then you can visit those websites that will make custom PSU cables based on your PSU specifications.
Many PC experts recommend CablesMod.com for making custom PSU cables, you can visit the website cablesmod.com and select your power supply, and they will tell you whether they can provide the matched PSU cables or not.
Modular PSU Do Not Have All The Cables: Here's What To Do?
The majority of the time, the modular Power Supplies will come with all the necessary cables.
But, in some cases, the PSU might lack specific cables like the 8-pin PCIe cables, dual 8-pin EPS cables for CPUs, or multiple SATA or Molex cables.
To include these cables, you can use different types of adapters available in the market.
If your modular PSU doesnt have sufficient CPU cables, then you can use an 8-pin EPS cable adapter.
If your PSU doesnt have sufficient PCIe cables, then you can use 6-pin to 8-pin PCIe adapters.
Wrapping Up
The entire article explains that the modular power supply comes with all the necessary cables, including (The Motherboard ATX cable, CPU cables, PCIe cables, SATA power cables, Molex cables, and power cord).
The modular power supply cables are not interchangeable with different Power Supplies; if you use the cables from different PSUs, then your system components can be damaged.
If this article is helpful for you, then bookmark this website to get all the information about PC parts, and if you have any questions, then ask in the comment box.
Source