Many beginners are often confused about which PSU types are compatible with different kinds of motherboards. In this article, I will help clear up all your confusion regarding PSU and motherboard compatibility.
To see if a power supply and motherboard are compatible, we need to check three things: the form factor, power connectors, and wattage.
Before we talk about how power supplies and motherboards work together, let's learn about the different types of power supplies and motherboards.
Different Types Of Power Supplies
There are various types of Power Supply form factors available, and you can find the dimensions of the PSU in the table below-
| | |
| --- | --- |
| PSU Standard | Sizes (Width, Height, Depth) |
| ATX PS/2 | 150mm(W) x 86mm(H) x 140mm (D) |
| ATX PS/3 | 150mm(W) x 86mm(H) x 100mm (D) |
| ATX Large | 150mm(W) x 86mm(H) x 180mm (D) |
| ATX- EPS | 150mm(W) x 86mm(H) x 230mm (D) |
| SFX | 125mm(W) x 63.5mm(H) x 100mm (D) |
| TFX | 85mm(W) x 64mm(H) x 175mm (D) |
| LFX | 62mm(W) x 72mm(H) x 210mm (D |
As you can see in the table above, there are four types of ATX power supplies. Among these, the ATX PS/2 is the most common and widely used power supply size, often referred to as the standard power supply size.
However, in the market, two or three types of power supplies are very popular, and these are ATX, SFX, and TFX power supplies. You can learn more about different PSU sizes.
Different Types Of Motherboards
There are four main types of motherboards available: EATX, ATX, Micro-ATX, and Mini-ITX. These motherboards have different sizes, features, and prices.
| | | | | |
| --- | --- | --- | --- | --- |
| Type | Dimensions | Expansion Slots | RAM Slots | Price |
| EATX | 12″ x 13″ | 7+ | 8+ | High |
| ATX | 12″ x 9.6″ | 7+ | 4+ | Medium |
| Micro-ATX | 9.6″ x 9.6″ | 4+ | 4+ | Low |
| Mini-ITX | 6.7″ x 6.7″ | 1-2 | 2 | Very-Low |
EATX: The EATX motherboards are the largest and most expensive types of motherboards. These motherboards have the most expansion, RAM, and M.2 slots.
ATX: The ATX motherboards are the standard form factor for most desktop computers. They are slightly smaller than ATX motherboards, but they still offer a good number of expansion slots and RAM slots.
Micro-ATX: Micro-ATX motherboards are smaller and less expensive than ATX motherboards. They are a good choice for budget-friendly builds and small form-factor (SFF) PCs.
Mini-ITX: Mini-ITX motherboards are the smallest and least expensive type of motherboard. Mini-ITX motherboards have very few expansion slots and RAM slots.
What PSU Works With What Motherboard?
Now, we will take a closer look at the PSU & motherboard form factors and check what PSU type will be compatible with what kind of motherboard.
Form Factor
The first thing to check when choosing a power supply for your motherboard is the form factor. This table shows which PSU types are compatible with which motherboard types.
| | |
| --- | --- |
| PSU Type | Compatible Motherboard |
| ATX PSU | EATX, ATX, Micro-ATX, Mini-ITX |
| SFX PSU | Micro-ATX, Mini-ITX |
| TFX PSU | Micro-ATX, Mini-ITX |
If you have an SFX or TFX power supply, you cannot use it with an ATX or EATX motherboard because these Power Supplies are only compatible with the Micro-ATX and Mini-ITX motherboards.
On the other hand, ATX is the standard Power Supply size, and you can use this ATX Power Supply with all the motherboard types like EATX, ATX, Micro-ATX, or Mini-ITX.
However, it's important to remember that when building a PC with Micro-ATX and Mini-ITX motherboards, most people use a small PC case. Not all PC cases are compatible with all PSUs, so you can learn more about PSU compatibility with PC cases.
Wattage
Different motherboards use different amounts of power from the power supply (PSU). ATX motherboards use about 80 watts, micro-ATX motherboards use about 60 watts, and mini-ITX motherboards use about 50 watts.
Except for the motherboard, the other PC components use more power. So, if you are using high-end components, you need a higher-wattage power supply (PSU). If you are using budget-friendly components, you can pick a lower-wattage PSU.
You can choose the right power supply (PSU) wattage based on the table below-
Power Connectors
ATX, Micro ATX, and Mini ITX motherboards all use the same main power connectors, but they might have varying numbers of other connectors based on the specific model.
ATX motherboards are the biggest and need the most PSU connectors. Micro-ATX boards are smaller but still need a good number of PSU connectors. Finally, mini-ITX motherboards are the smallest and need very few PSU connectors.
ATX power supplies come with many connectors, making them compatible with any motherboard. On the other hand, SFX and TFX power supplies may not have all the needed connectors, so you cannot use them with all types of motherboards.
If you're not familiar with power supply connectors, you can learn more by reading the article titled 'What Connectors Come with a PSU?
Use PCPartsPicker To Check The Compatibility
If you're still unsure about which PSU types will work with specific motherboards, you can use compatibility tools like PCPartPicker.
Once you're on the pcpartspicker.com website, click on the 'Start Your Build' option.

Afterward, choose your motherboard model and Power Supply, and the website will provide compatibility notes indicating whether these components are compatible or not.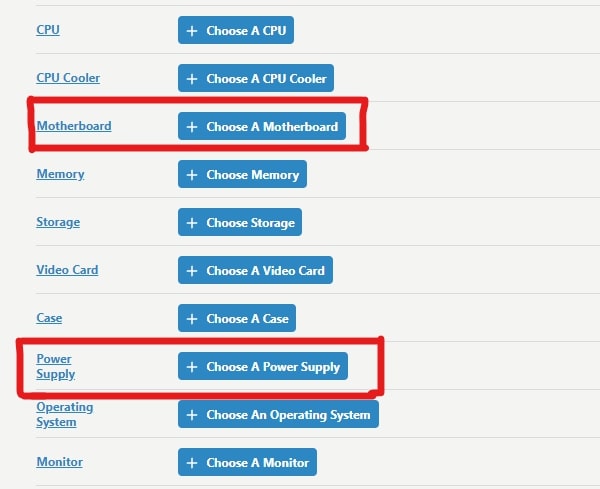 The site will also show you the connectors that come with the selected Power Supply, including the ATX connector, EPS connectors, PCIe connectors, SATA connectors, and Molex connectors.
Wrapping Up
ATX is the most common Power Supply type and is compatible with almost all motherboard types. However, SFX and TFX Power Supplies are specifically compatible with certain motherboard types.
When purchasing a Power Supply for your motherboard, it's essential to check the PSU wattage and connectors. The PCPartPicker website